By: Anonymous
Thirty years of captivity will not define me or diminish my light. It was my faith that gave me strength. Thinking, "God has a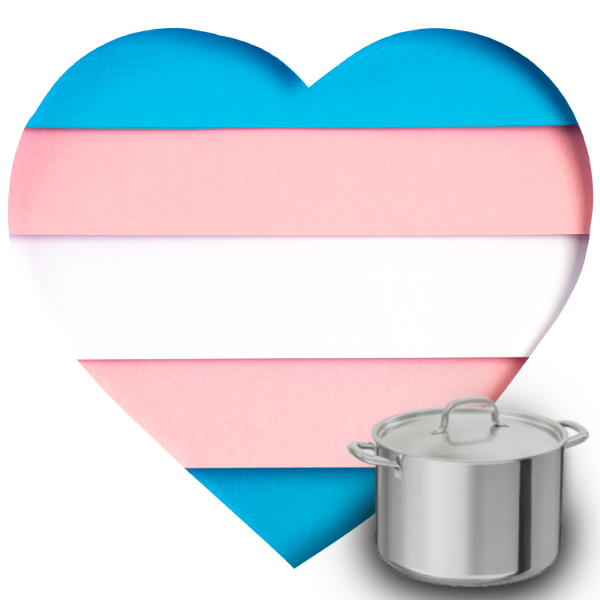 purpose for me." I didn't know what it was, but I knew my life wouldn't end that way. People ask me why I waited that long but when you don't have a family or a safe place to go, you don't walk away even if the door is open. 
After escaping my trafficking situation, I faced homelessness, hunger, pain, and shame. No shelter would accept me because, according to their rules, I didn't fit into the boxes of male or female, and there was no shelter for trans people. Then, one day, while walking down the street, I found a beautiful shiny discarded cooking pot. It had two handles and a lid, and holding it, I thought to myself, "this will become my flag to fight hard every day to find a place for me and my cooking pot. I promise that this cooking pot will hold a warm homemade meal." Other people made fun of me for carrying around a pot when I didn't even have a roof over my head. But I knew one day, all that would change.   
April 2015   
It was my birthday when I finally made the call that changed my life forever.  
After seeing a poster with a Pride flag on it, I called a hotline and met with someone from an organization. Even though they tried to get me a place to stay, there was still no shelter for a trans woman. I would have felt safer at a women's shelter, but everything was male and female. They categorized me as the gender that was on my identification. Once more, I didn't check an easy box.  
Then, one morning, I got a call from the social worker assigned to my case. I was able to get housing assistance but the program was only for a year. The news was bittersweet and caused a lot of anxiety. I had temporary housing but still no legal status and was worried about my ability to be independent if I wasn't eligible for employment. The year went by so fast but toward the end my social worker called once more. 
2016 Housing Assistance  
Great news, I finally got a housing voucher to find a place to live. However, it presented another challenge. No one was willing to accept the voucher even though I had a job and the legal status I always dreamed of.    
I wondered why I still couldn't find a place to live. After three months of looking, the only places that would take the voucher were unsafe places for me, a trans woman, to call home.  
Sadly, after all that time and effort, I had to give up the voucher when it expired.   
Present Day  
Housing is still very challenging for me as a transgender woman, and progress towards stability ebbs and flows. Sometimes my financial situation means choosing to go without basic necessities. There are still days I have to choose between paying rent or having food on the table. This was compounded by the pandemic, which meant fewer opportunities and limitations to only access food pantries once a month. Still, I keep moving forward and stay grounded by looking back at how far I've come. I'm thankful to have a roof over my head and a kitchen where I can make homemade meals in my beautiful shiny cooking pot.  
Providers frequently have no idea how to be survivor- or trans-informed. Over the years, I have worked tirelessly to help inform the anti-trafficking movement. However, my advocacy and speaking engagements haven't materialized into the needed changes to help me and others like me stabilize our lives.    
I know it is not going to be easy, but we can make things better by working together to: 
Require trauma-informed and trans-inclusive education of health and social service professionals. 

 

Fight for comprehensive survivor and trans-informed resources.

 

Employ staff to solely focus on grant and funding strategies.

 

Dismantle barriers to housing faced by LGBTQIA+ survivors at local and federal levels.

 

Dismantle barriers to other needed resources faced by LGBTQIA+ survivors at local and federal levels. 

 

Increase the number of housing and financial assistance programs.

 

Increase survivor housing support and service engagement to over a year.

 

Pay attention to anti-trafficking legislation in your area.

 

Incorporate trans-survivor voices into organizational policy and procedure decisions.

 

Remember that the needs of trans-survivors remain even after this blog post tab is closed.

 
If you or someone you know needs help, the TransLife Line offers peer support and resources linkage in English and Spanish from 5 p.m. ET to 1 a.m. ET. It is available in US & Canada. Family and friends seeking to support a trans person in their life may also use the hotline.  U.S. 877-565-8860 https://translifeline.org/  Canada 877-330-6366.   
Resources:  
Get The Facts About Trans Youth, Movement Advancement Project 
https://www.lgbtmap.org/file/Advancing%20Acceptance%20Infographic%20FINAL.pdf   
Medical and Mental Health Resources for Providers, Gender Spectrum 
https://www.genderspectrum.org/articles/medical-and-mental-health-resources  
Medical Care of Trans and Gender Diverse Adults, National LGBTQIA+ Health and Education Center 
https://www.lgbtqiahealtheducation.org/publication/medical-care-of-trans-and-gender-diverse-adults-2021/  
LGBTQIA+ Youth and Experiences of Human Trafficking: A Healing Centered Approach, National LGBTQIA+ Health, and Education Center 
https://www.lgbtqiahealtheducation.org/publication/lgbtqia-youth-and-experiences-of-human-trafficking-a-healing-centered-approach/  
Breaking Barriers: Improving Services for LGBTQIA+ Human Trafficking Survivors, Polaris 
https://polarisproject.org/wp-content/uploads/2019/09/breaking-barriers-lgbtq-services.pdf  
Collaboration Toolkit for Anti-Trafficking and Housing Programs, Freedom Network USA 
https://freedomnetworkusa.org/app/uploads/2022/03/FRN_23972-Toolkit-Final.pdf  
Housing Health and LGBTQIA Older Adults, National LGBTQIA+ Health and Education Center 
https://www.lgbtqiahealtheducation.org/publication/housing-health-and-lgbtqia-older-adults-2021/  
Colleges and Universities that Provide Gender Inclusive Housing, Campus Pride  
https://www.campuspride.org/tpc/gender-inclusive-housing/